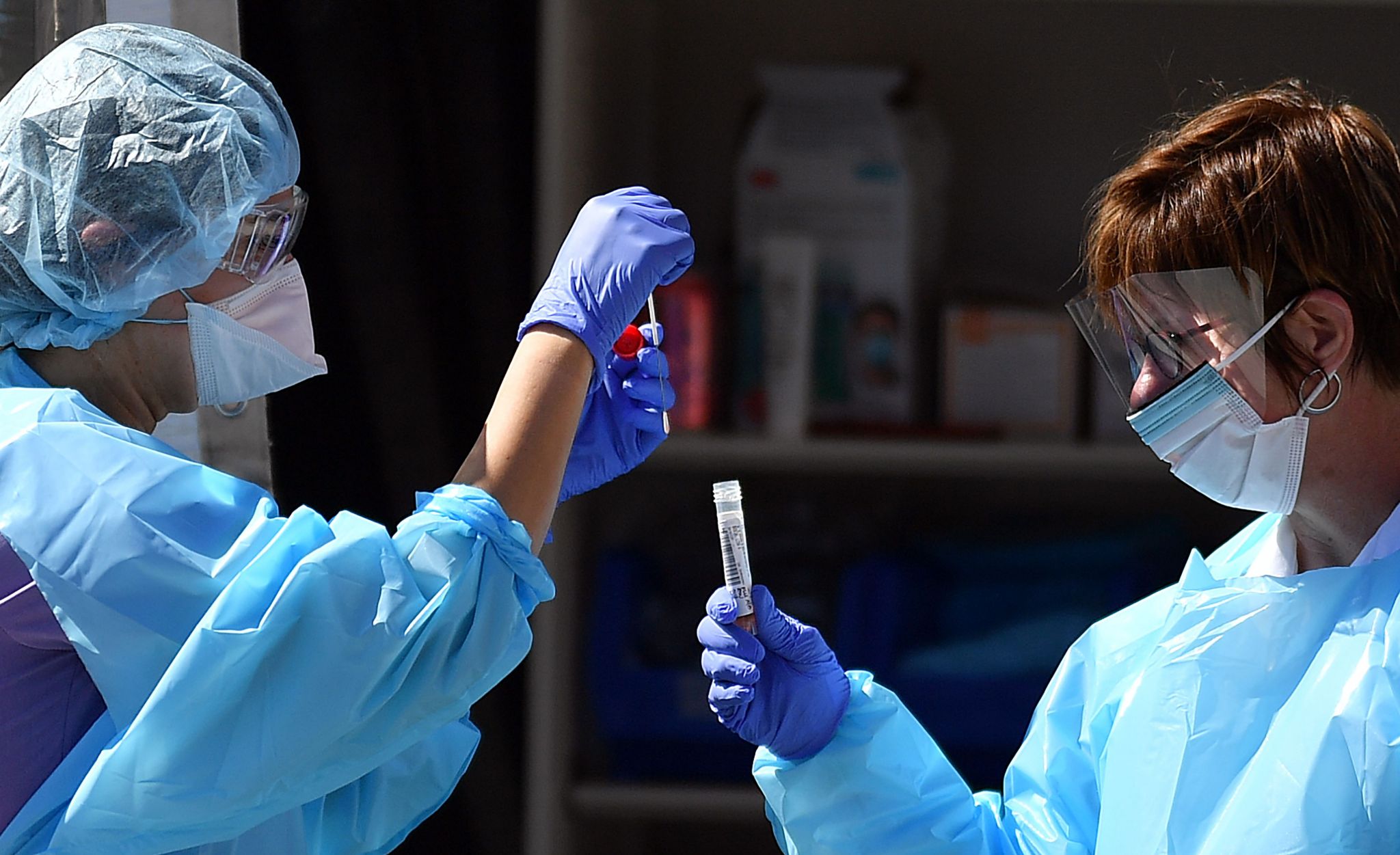 Photo: JOSH EDELSON / AFP Via Getty Images

While the coronavirus is rising sharply in San Francisco, city officials are preparing for the worst possible outcome: mass infections after the fall, potential congestion in the city's health care system, and a sharp increase in the number of victims in the city.
Grant Colfax confirmed at a virtual press conference on Thursday that the number of hospitalized patients receiving COVID treatment is higher than ever before, stressing the urgent need for city residents to correct themselves in mitigating the spread of the virus. During the last peak in April, 94 people were hospitalized. Six weeks ago, that number dropped to 26. But by the end of July, the number of hospitalized jumped to 107. Of these, according to Colfax, a quarter are in intensive care.
"In just 10 days, we went from 5,000 to 6,000 cases of COVID-19 this month," he said. "Let me clarify: We have a large increase in the COVID-19 virus. The virus is spreading rapidly and more people are very ill. If this continues at current levels, we estimate that on average we will have more than 750 San Francisco hospitals by mid-October and more than 600 deaths from COVID-19 in 2020. [The] the worst case scenario leads us to 2,400 hospitalizations and 1,800 deaths. These scenarios become more likely as they go through current trends every day. ' "
Such numbers seem scary, but they can still be avoided at this point. The city recorded 6,423 cases and 58 deaths on Thursday. Colfax noted that the hospitals in San Francisco are not as impressed as they were in New York, but "it is extremely persistent that we have reached this point."
George Rutherford, a professor of epidemiology at the University of California, San Francisco, mostly agrees with the city's assessment and current forecasts. While the current R0 score is just north of 1 – significantly lower than it was a week ago – the data the city predicts in the near future is likely to still hold on.
"In the past, they were accurate," Rutherford says of the projections for 4 to 6 weeks in advance. "When you move on, it's someone's guess. We use different inputs to get estimates of where it could be, [but] it's not about having a pool about it or building with it. They are intended for planning purposes. if [Colfax] publishes these numbers where they plan. "
City officials are currently working to find the best ways to cope with the sharp increase in hospitalizations. On Thursday, Colfax and District 2 spokeswoman Catherine Stefani announced that she would vacate hospital beds for coronavirus cases for non-COVID patients. And before that, another floor was opened for COVID patients in St. Francis.
As for what could happen later this year, Rutherford is not sure of the city's estimates. Although the notion that, on average, more than 750 people may be hospitalized per day is not convincing about the estimated number of victims of 600, it notes that "it seems a little far away".
"However, if it starts to return to nursing homes or if we infect so many young people, we will see their spread in the ICU and morgue, which will be very problematic," he adds.
As for the worst case scenario numbers? It's still hard to say. There is a possibility that this could happen, says Rutherford, but the result is far from certain at this point. "It's a modeling problem too far," he says, "you get big numbers, but you have to plan for something."
All this except that the future scenario that Rutherford is really interested in is not exclusively about the coronavirus – it's the flu. "Will everyone have a slow shot against the flu and we start flooding the emergency departments with people with the flu and with people with COVID?"
It's a scary thought, but for San Franciscans, it provides the best way to prevent huge hospitals from following the recommendations of the medical department – doing things that are within their power.
"They can stay home when they are sick, they can avoid internal surgery, they can get the flu," he says. "They can control it."
They should follow the instructions Colfax issued again on Thursday: "Wear a mask. It's not that hard. "
Alyssa Pereira is the culture editor at SFGate. Email: alyssa.pereira@sfgate.com | Twitter: @alyspereira