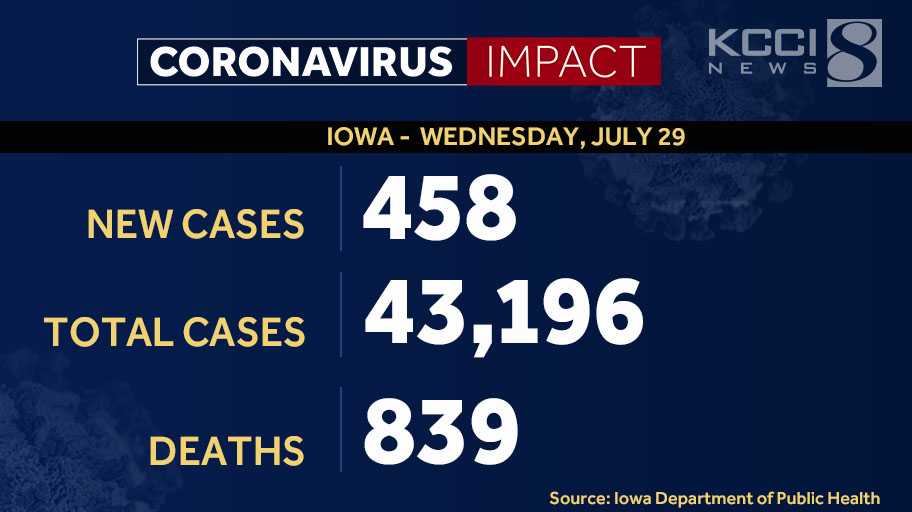 POSITIVE FOR COVID-19. WANT THINGS Go back to normal more quickly? Wear a mask. WHAT IS CHRIS GOTHNER, DRIVEN BY DR. PATRICIA QUINLISK. CHRIS: DR. PATRICIA QUINLISK IS A FAMILY TIME SERVICE THAT INVITES SHE 'TO THE GOVERNMENT MADE OF THE STATEWIDE MASK. THEY PROVIDE THAT THE STEP IS PROVIDED AND KEEP OUR ECONOMIC MOVEMENT. >> PARTICIPATE IN THE POLITICS. THIS SOMETHES WILL NEVER BE MORE HAPPY ABOUT POLICY INVOLVED. I NEVER NEVER WANT AND WERE NO EXPERIENCE. BUT I NEED TO ADD A VOICE TO ALL OTHER VOICES THAT SAY THAT IT IS NOW THAT WE CAN GET YOU TO GET THESE VIRUS STOPS. CHRIS: MUC MUC MORE "CLOSE" IN MY INTERVIEW. YOU ARE WATCHING WHAT THE MANY ABOUT TO HAVE TO OPEN THE SCHOOL
Iowa overcomes 43,000 positive cases of coronaviruses
Since the beginning of the pandemic, Iowa has overcome 43,000 positive cases of coronaviruses. As of 1
0 a.m. Wednesday, the Iowa Department of Health reported 458 new positive cases and 3 more deaths. IDPH reports a total of 43,196 positive cases, 31,196 recoveries and 839 deaths. On Tuesday 10.00 am IDPH reported 42,738 cases and 836 deaths. IDPH reported that 463,935 Iowans had been tested for the virus. On Tuesday, 3,226 Iowans were tested with a positivity rate of 6.7%. One in 7 Iowans was tested and one in 73 tested positive. The IDPH coronavirus website lists 246 patients who are currently hospitalized with COVID-19. That's 253 from the previous day. 76 patients are listed in intensive care, of which 75 the previous day. There are 32 patients on the ventilators until the 31st day of the previous day. In the last 24 hours, 23 patients with coronavirus were admitted, 30 of them the previous day. IDPH said there are approximately 3,110 inpatient beds in the state, with 480 ICU beds and 777 ventilators. There are 21 coronavirus outbreaks in Iowa long-term care facilities. IDPH reported 673 positive cases and 252 recoveries at these facilities. There were 456 deaths in these facilities. The Iowa Department of Health displays the latest real-time information on coronaviruses on this website. KCCI publishes a summary of the previous 24 hours of data every day at 10:00
DES MOINES, Iowa –
Since the beginning of the pandemic, Iowa has overcome 43,000 positive cases of coronaviruses.
As of 10 a.m. Wednesday, the Iowa Public Health Department reported 458 new positive cases and 3 more deaths.
IDPH reports a total of 43,196 positive cases, 31,196 recoveries and 839 deaths. On Tuesday 10.00 am IDPH reported 42,738 cases and 836 deaths.
IDPH reports that 463,935 Iowans were tested for the virus. On Tuesday, 3,226 Iowans were tested with a positivity rate of 6.7%. One in 7 Iowans was tested and one in 73 was tested positive.
The IDPH coronavirus website lists 246 patients who are currently hospitalized with COVID-19. That's 253 from the previous day. 76 patients are listed in intensive care, of which 75 the previous day. There are 32 patients on the ventilators until the 31st day of the previous day. In the last 24 hours, 23 patients were admitted with coronavirus, 30 of them on the previous day.
IDPH said there are approximately 3,110 inpatient beds in the state, with 480 ICU beds and 777 ventilators.
There are 21 coronavirus outbreaks in Iowa long-term care facilities. IDPH reported 673 positive cases and 252 recoveries at these facilities. There were 456 deaths in these facilities.
The Iowa Department of Health displays the latest real-time coronavirus information on this website. KCCI publishes a summary of the previous 24 hours of data every day at 10:00
Source link